Olive-Picking-Weeks 2019
At the end of the Summer the Kytherians are getting restless, because the olive picking season is in sight. The only topic of  conversation are olives. 'What about the weather, do they still need some rain, is it going to be a big crop with good quality olives, when will they be ripe etc'. And when the moment is there, everybody stops their own business and whole families go out in the fields for weeks to pick their olive trees. Driving around the island you will see green olive nets everywhere and from the valleys you will hear voices and laughter.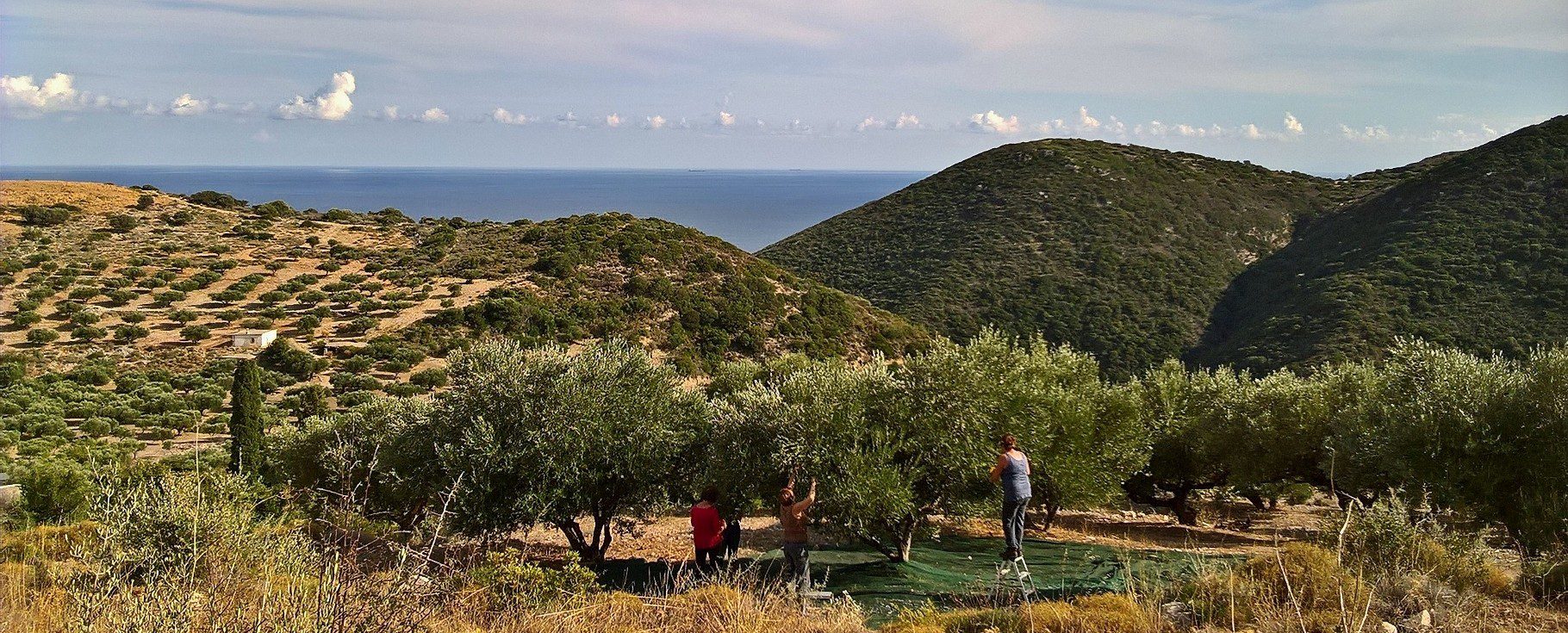 If you want experience this great Greek tradition, then come to Kythera and join us for one Olive-Picking-Week in the autumn! In 2019 we organize the Olive-Picking-Weeks for the 11th time, starting at the end of October.
An olive picking day starts with a good breakfast in the morning. Then you'll be transported to a romantic olive grove with trees which are often more than a hundred years old. The nets are neatly spread under the trees and then the picking starts. We pick the traditional way, with a so called olive comb. No noisy machines are being used, so you can fully enjoy the peaceful environment.
Our beautiful olive groves are spread around the island. Almost all of them in the middle of nature, sometimes nearby a traditional village but also close to the sea with fantastic views. Of course coffee and a tasteful lunch in the grove are provided.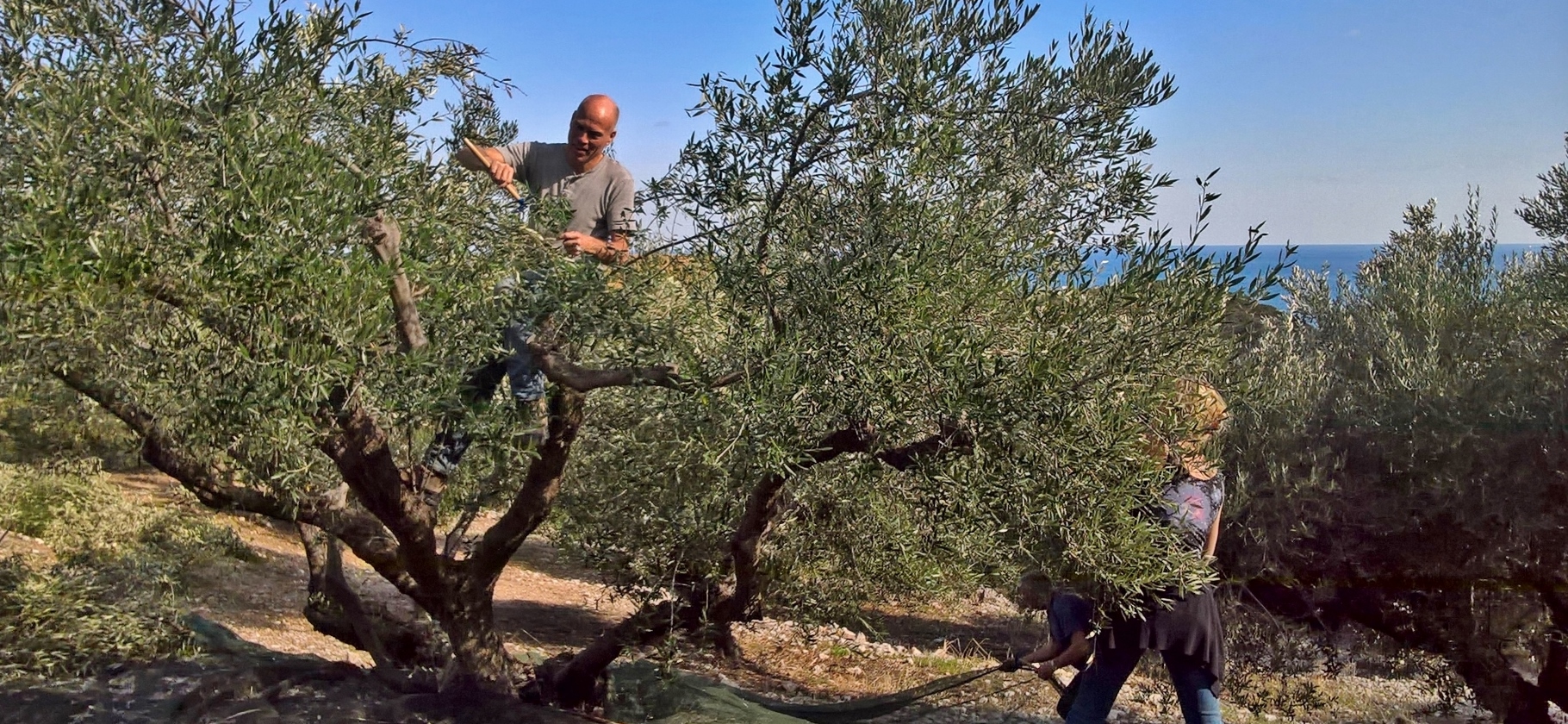 At the end of the week we will bring the harvest to the olive oil factory and get the olives pressed. Of course all the participants get a few kilo's of their own fresh pressed oil to take home.
Olive picking is easy to do and people of all ages and physical conditions are welcome. If you have any doubts, please contact us.
On picking days dinner is served at the guesthouse and one of the evenings a local chef will be giving a Greek cooking class. On free days you can choose to relax, explore the island, go to the beach or go hiking. Especially for our guests we have 10 different hikes available with the guesthouse as beginning- and ending point.
PERIODS:
– Week 1: 25 October until 1 November
– Week 2: 4 until 11 November
– Week 3: 15 until 22 November
THE OLIVE-PICKING-WEEKS 2019 OFFER! Price per person € 595,00
Included:
– a stay of 7 nights in a luxury studio or apartment in Xenonas Fos ke Choros
– 3 tot 4 picking days
– a visit to the olive press
– daily breakfast
– lunch in the olive grove (on picking days)
– diner at the guesthouse (on picking days)
– a Greek Cooking Workshop followed by diner (on a picking day)
– airport shuttle
– transport to and from the olive grove
Not included:
– costs of return flights from your home country to Athens and from Athens to Kythera
INDICATION OF COSTS PER PERSON PER WEEK € 900,=!
This includes the Olive-Picking-Weeks offer and return airplane tickets. Ask us a for a free personal Travel Proposal. It consists of a Travel Description and a Travel Cost Indication per person.
Click here if you want to know more about olive oil or here if you want to check out some methods for curing olives.
For a photo impression of the previous years click here.
VIDEO OLIVE PICKING: